Today I am linking up to Mama Kat's Writer's Workshop over at Mama's Losin' It!. I am dedicating this post to my bloggy friend Cori, who is pretty sure I will never link up.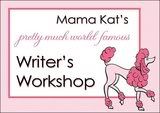 Prompt #5) What five images paint a perfect picture of summer to you? Put those five images together in a piece of writing.
Summertime used to mean bicycle rides to the park, leaving early to beat the heat.
Now it's teaching him to drive while I grip the door handle and try to control my breathing. I just might take up smoking.
Summer used to mean candy-colored popsicles, dripping down his chin and onto a dinosaur t-shirt.
Now it's a 64 ounce Dr. Pepper from the Mini Mart and a Disturbed t-shirt.
He used to be up with the sun in the summertime, ready to start his day with a smile on his face and an Eggo waffle.
This summer, getting up "early" means before 10am; he's lethargic, and wants coffee. And an Eggo.
Summer used to mean freedom from homework and teachers!
This summer, he had homework for 3 classes that was VERY time consuming. Reading Crime and Punishment would have been punishment enough without finding 25 relevant quotes and writing about each one.
Summer used to mean endless free time with him, doing puzzles, going to the library, the water park, and getting together with friends.
This summer, some of our best free time was spent on a road trip to check out colleges. For next year. When after our summer is over, he will leave.
I have learned to take each summer as it is, to savor the time with my kids and the break in routine. There are no more chubby legs in swim diapers, no more swim lessons at the local pool in the searing heat. The Free Family Movie morning at the local cinema is no longer fun, the park is for babies, and the library reading program is something you volunteer to help with, not participate in.
I watch the mommies pushing their strollers and wiping noses and I miss those days. Some days, more than others.
I absolutely love the people my kids are turning into. People that somehow, through all of my nagging and sometimes feeble attempts at parenting, I have helped shape them into.
But for all of the noses I wiped, all the sunscreen I applied, the hours I spent pushing the stroller, and all of the popsicle stains I vanquished I earned a valuable prize.
The title of Mom.