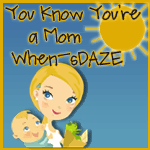 I'm linking up with Arizona Mamma's You Know You're a Mom When-sDaze! again today…one of my favorite blog hops, you should check it out!
You know you're a mom when:
You are proud that you taught your toddler to make his own bed, but secretly sneak in later to just fix it up a bit. Boy toddler never catches on to this; girl toddler does the first time you try. So you stop.
On a quiet afternoon with nothing on the calendar, you find yourself parked at the edge of town near a herd of cows….just because you thought it might be fun for your kid to see them. It is.
You can name all of the Bionicle guys, their special powers, and what their battle weapon of choice is. But you still can't assemble them properly.
When purchasing back to school clothes for your youngest kids, you feel like the most important thing is that they can do the buttons/snaps/zippers allbythemselves….because you want them to succeed in this new challenge on their own. Because you won't always be there.