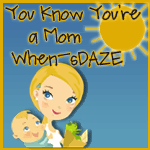 I had so much fun linking up to Arizona Mamma's You Know You're a Mom When-sDaze! that I decided to do it again this week!
You know you're a mom when…..
You are diligent about refusing to let the kids eat raw cookie dough (Raw eggs! Salmonella for sure! You'll thank me later, when you aren't sick!), yet sneak spoonful after spoonful when they are out of the kitchen.
You can play Name that Stain with anyone in the family, and always win.
Other members of your household are amazed at your superpower-like ability to locate lost items without even getting up to look for them.
You can sort a bin of plastic dinosaurs by the era in which they lived, not because you were a science major in college, but because your son is obsessed with all things dino.
You can

fumble

through your purse and come up with a band-aid, a quarter for a gumball, a hair scrunchie, a coupon for juice boxes, or a matchbox car when needed.
Your kids have adorable clothing. You haven't bought anything for yourself to wear that didn't come from Target in years.
Some of your best memories involve crawling, spit-up, loose teeth, broken bones, ice cream sundaes, and finger paint. Maybe all in the same day.
I'm being sneaky and also linking to Word Up, YO! hosted by Natalie (Mommy of a Monster), Kristin (Taming Insanity) and Liz (a belle, a bean and a chicago dog) . The word of the week is fumble.